mental health in construction.
As a society, we're talking about mental health more openly than ever before. The pandemic has shone a light on the importance of looking after our wellbeing, and speaking out when we're feeling cut off, stressed out, or unable to cope.
Some workplaces are making great strides in embracing and prioritising employee wellbeing, but there's still a long way to go. There's also a definite disconnect among certain industries in the UK – with construction facing its own unique challenges.
Stereotyped by a traditionally 'macho' culture, and compounded by high stress, long hours, and significant time away from home, construction has long been seen as a breeding ground for poor mental health. In fact, male employees working in construction are three times more likely to take their own lives than the national average. According to mental health in construction charity Lighthouse, every single working day in the UK, two construction workers take their own life.
The importance of employers playing an active role in managing stress amongst their workforce is therefore paramount.
42% of construction workers experienced declining mental health due to Covid-19.
one in five employers have improved support.
When asked whether their employer was doing enough to combat rising stress levels in the construction industry, only 20% of survey respondents said their employer was doing enough, and more so since before the pandemic.
Just over a quarter (26%) said support levels had remained the same, and 7% said that while support was adequate, they are actually receiving less support now than before Covid struck.
Almost 47% of construction workers said their employer was not doing enough to combat rising stress levels: 9% were seeing more support, but not enough; 10% said support had dropped, and 29% saw support levels remain the same as before the pandemic.
It has been an incredibly difficult year for workers all over the UK, and across every sector. But when you're part of an industry that's notorious for below-average employee mental health, doing everything in your power to help your people manage their stress ought to be a key consideration for employers in construction.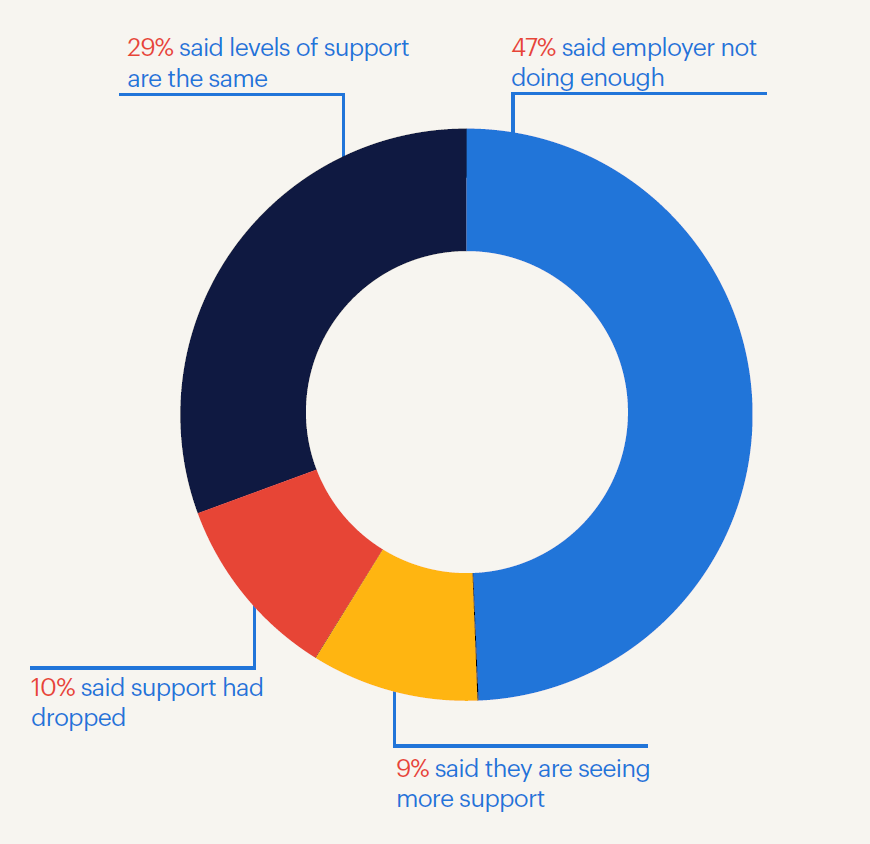 mental health: the new pandemic.
Our survey found that 42% of construction workers experienced declining mental health due to Covid-19;
43% suffered from anxiety post-furlough.
45% reported high levels of stress at work.
20% took time off due to stress in the past year.
55% received no help from their employer in terms of managing stress.
Furthermore, 50% had a poor onboarding experience when returning to work following lockdown, and 28% had no onboarding process at all. Onboarding might usually be the preserve of new starters, but people need an element of hand-holding as we adjust to our new normal.
For employers then, how you reintroduce people to the workplace could be the difference between employees who thrive, and those who just about survive.
"I'm doing their work whilst they're on furlough"
"I feel under pressure to work harder and be more productive, even if this means working silly hours and never having a holiday"
re-building in the wake of covid.
Many of us are starting to see the light at the end of the Covid tunnel, but its repercussions will be felt for a long time to come.
Our mental and physical health has been affected; we've suffered losses, and upheaval; our careers have stalled, halted, or catapulted on the roll of a die; in actuality, life as we know it has been turned on its head. And it's a reality we're all trying to adapt to.
The construction industry faces an even greater challenge than most: in an industry already disproportionately affected by high-stress levels and poor mental health, the past year will have only served to deepen issues. With workers impacted to varying degrees, and in such different ways depending on role, location and seniority, it'll be difficult to cater to the needs of everyone without connecting on a personal level, and finding out what support YOUR people actually need.
As we begin to emerge from the pandemic, the most successful business leaders will be those with employee welfare at the forefront of their minds. The employers who recognise that their people need time to heal, and to adapt. The team leaders who focus on rebuilding workplace relationships, without losing the lessons of the past year.
Despite the fear and isolation, we've had a taste of freedom and flexibility; one that few will want to lose in its entirety. Keeping your workforce happy and content then will call for certain allowances.
A great many jobs in the construction industry call for workers to be onsite, but not all. Where office-based roles are concerned, people have – in the main – exploded the myth that their jobs have to be performed from one centralised location. But they've also exploded another myth: that everyone who can wants to work from home, all of the time.
The employees in our survey called for mental health and resilience training, for stress reduction sessions, and for workplace wellbeing champions who can lead the way when it comes to creating a culture that cares. They also demand safe working environments, stringent hygiene measures, and company-wide vaccinations to keep them, and their families, as far from Covid as a post-lockdown world will allow.