roadmap to recovery
construction leadership council's COVID-19 task force.
The construction industry sits at the forefront of the national economic recovery in the UK, with 3.1 million workers and exports of billions of pounds worth of products and services.
The Roadmap to Recovery plans to increase activity, accelerate industry adjustment to the new normal, and build capacity in the industry to deliver strategic priorities.
what are the key strategic priorities for construction recovery post-COVID-19?
Increasing wealth and success of the UK
Modernisation in digital and manufacturing technologies
Generating safer buildings
the three Rs of construction recovery.
The plan set out across 2 years highlights the basic need to address the current situation, adapt and overcome challenges presented by COVID-19 and to evolve into a better workforce post-pandemic. With time to reflect and assess the current situation nationally and globally a green initiative has been highlighted and greater importance placed on the value of construction across the country to continued growth and success fo the economy.
commitment to construction
government's pledge.
Following the Government's announcement to Build, Build, Build. Rishi Sunak, (Chancellor of the Exchequer) outlined further support to the country of a furlough bonus, a stamp duty break and a £3bn green building plan to get construction moving again during the summer budget update.
green recovery.
Mr Sunak pledged two billion in the Green Homes Grant, and one billion to make public sector buildings greener, during the second phase of the COVID-19 response from the goverment.
The Green Homes Grant allows homeowners and landlords to apply for vouchers towards energy-efficient improvements, with the government covering at least two thirds of the cost up to £5,000 per household.
For low-income households, the vouchers will cover the full cost up to £10,000, while social housing will receive £50m to pilot green fit-outs including wall insulation and heat pumps.
Aimed for a September launch, the government presents ideal energy efficiency measures, along with details of accredited local suppliers. Once the suppliers have provided a quote, the voucher would be issued.
The measures would see up to 650,000 homes retrofitted and create 140,000 green jobs.
a pause on stamp duty.
Exempting the first £500,000 of all property sales from tax, under the changes, homebuyers in England and Northern Ireland will not pay any tax on homes up to £500,000 until 31 March 2021. This applies to first home buyers and those who have owned property before.
The average stamp duty saving will be £4,500, with nine out of ten buyers this year now paying no stamp duty at all on purchases.
job retention bonus.
In an effort to prevent redundancies, the job retention bonus looks to "reward and incentivise" businesses that retain staff once the Jobs Retention Scheme (furlough) ends in October.
Businesses will be able to claim £1,000 for every worker brought back from furlough and kept in work for at least three months. To qualify, workers must be paid at least £520 per month on average when they are brought back and be continuously employed from November to the end of January.
investing in youth.
Businesses will be paid £1,000 to hire trainees, with a £100m fund in place to support high-demand sectors such as engineering, construction and social care.
£2billion has also been pledged for the Kickstart scheme for young people to create new jobs for 16-24 year olds at risk of long-term unemployment and will pay a minimum of 25 hours per week paid and at least the national minimum wage.
positive trends for construction
sector by sector.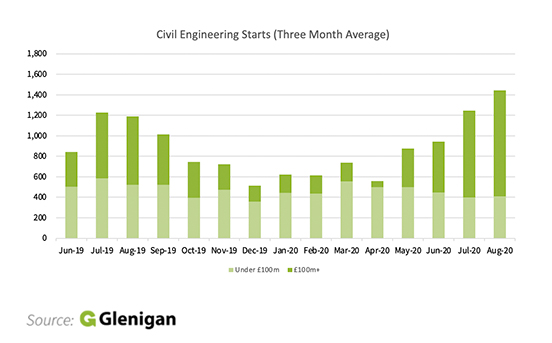 With growth of 22%, totalling £4.3 billion, civil engineering was the only sector to achieve growth over the previous year in terms of work commencing on-site.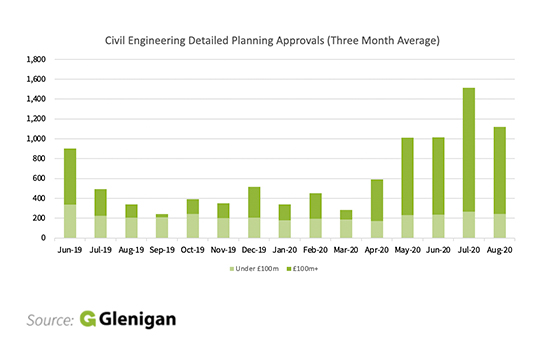 Detailed planning approvals were 228% higher than the previous year, adding up to £3.4 billion during the three months to August, largely due to a 540% increase in the value of major projects. The approval of the £1.8 billion Norfolk Vanguard Offshore Wind Farm and the £257 million Graythorp Energy Centre contributed significantly.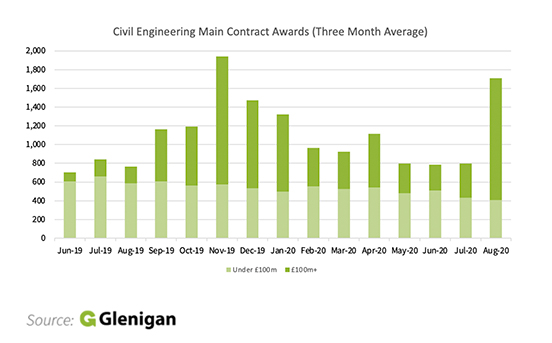 Main contract awards show percentages 123% higher than the same period in 2019, largely due to an increase of 623% in major awards. The awarding of two offshore windfarms in Scotland, one worth £1.4 billion and the other £1.16 billion, as well as several major road projects, both provided a major boost to the development pipeline.
construction and COVID19.
sites re-open.

sectors returning to work.

value of projects.

sector - residential.

sector - commercial.

sector - public.

supply chain.